As the company's Vision and Mission states to ensure quality in every drop of our products as it contributes in saving lives. We ensure that our entire production process as well as our well trained production team is in line with this philosophy.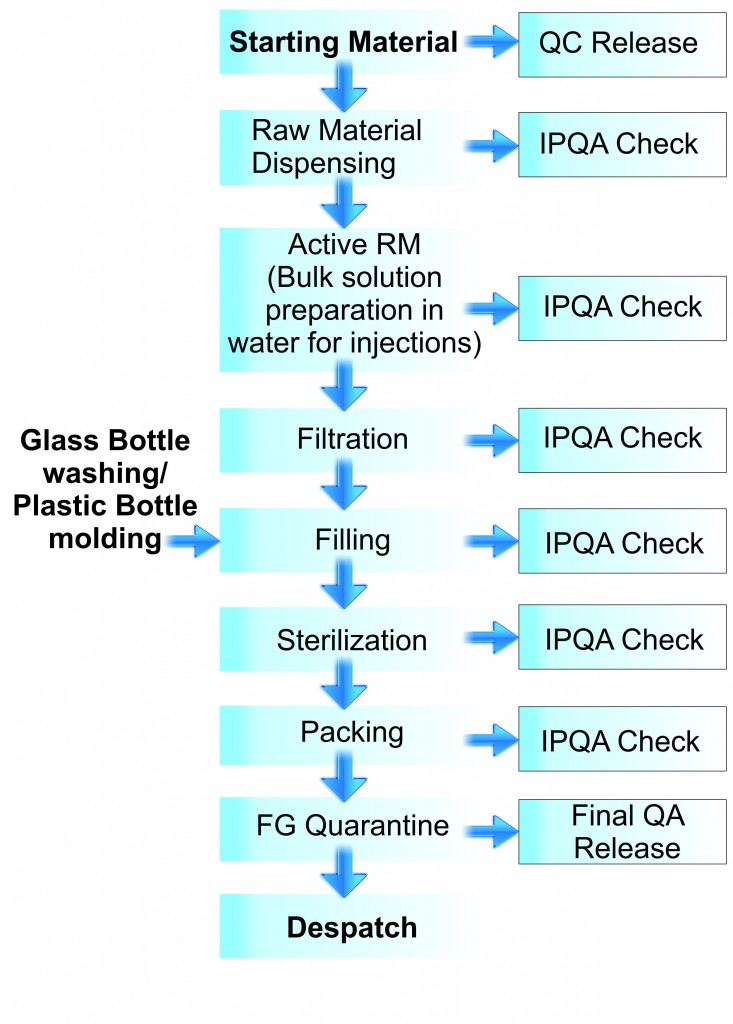 A BRIEF DESCRIPTION OF OUR PRODUCTION IS AS FOLLOWS:
The production department makes the production plan after getting requirement from Marketing. Accordingly, Raw material (RM) and Packaging material (PM) is issued from store. The RM is weighed accurately as per requisition. The weighed material is transferred to the production department. Production and QA chemist again check the weight R M items and then the R M material is transferred to the solution preparation area. After the batch has been prepared, a bulk product sample is given to the QC department for conducting In-Process control (IPC) test. Based on the test results once QC releases the sample, the product is filtered through a 0.45 / 0.22 micron filter for filling. Second filtration is carried out by 0.22 micron membrane before filling. After filling and sealing the product containers are loaded in trays to terminally sterilize the product in autoclave. After sterilization, bottles are visually inspected. After visual inspection, the inspected bottles are labelled individually and then packed into corrugated box. The critical process is carried out in classified area and under LAF to ensure a quality product.
FLOW CHART FOR MATERIAL INPUT TO STORE
ARRANGEMENT FOR HANDLING OF RAW/PACKING MATERIAL AND FINISHED GOODS
The handling of RM and PM is done by the stores department, whereas that of finished goods (FG) is done by the dispatch department. Written procedures are available in the stores. For the raw materials store In-charge has to ensure that all incoming materials are handled and stored according to established procedures. Dispatch In-charge is responsible for handling and dispatch of finished goods. On the work floor, the Production In-Charge is responsible for the handling and storage of all incoming, in-process and outgoing material. Storage of above material is also done according to written procedures and at designated locations in a way which prevents their damage. Pallets are used wherever appropriate. Methods for authorizing the receipt and the dispatch, to and from such locations, are also stipulated. In order to detect deterioration of RM, the condition of the material in stock is assessed periodically. Finished goods packing is done according to established procedure so that their identity, integrity and segregation are maintained.
HANDLING OF REJECTED MATERIALS AND PRODUCT
According to standard operating procedures, all incoming and outgoing materials which do not confirm to the specified requirements are identified and segregated. These are then rejected and scrapped. The QC Manager has overall responsibility for verifying the quality and informing the Store In-charge who is responsible for the identification, segregation and disposal of nonconfirming items. The Production Manager and QA are responsible for investigating the cause of the nonconfirmance and taking corrective action to prevent recurrence.
BRIEF DESCRIPTION OF GENERAL POLICY FOR PROCESS VALIDATION
The Company has an established policy of validation. The validation also includes environmental control. Manufacturing process is validated for its efficacy. The cleaning and manufacturing process in mixing and filling are monitored in accordance with specified In-process control (IPC) parameters for each and every batch produced. In addition to this all the equipment are checked periodically by physical inspection and by planned preventive maintenance.